Creative Business Opportunities are Everywhere
Welcome to the media universe. It is the sprawling home to the creator economy, Web3, commerce, retail, Hollywood, Silicon Valley, software, dealmakers, brands, and pretty much everything you read, watch, discuss, click, or buy.


As a creative entrepreneur, you and everyone else in the world are connected in this digital business and consumption network through the convergence of technology and media. New platforms, new ideas, big businesses, small businesses, and YOUR business all live inside this matrix. Media mogul Evan Shapiro has been spotlighting this notion for a few years with the help of this picture of the media universe.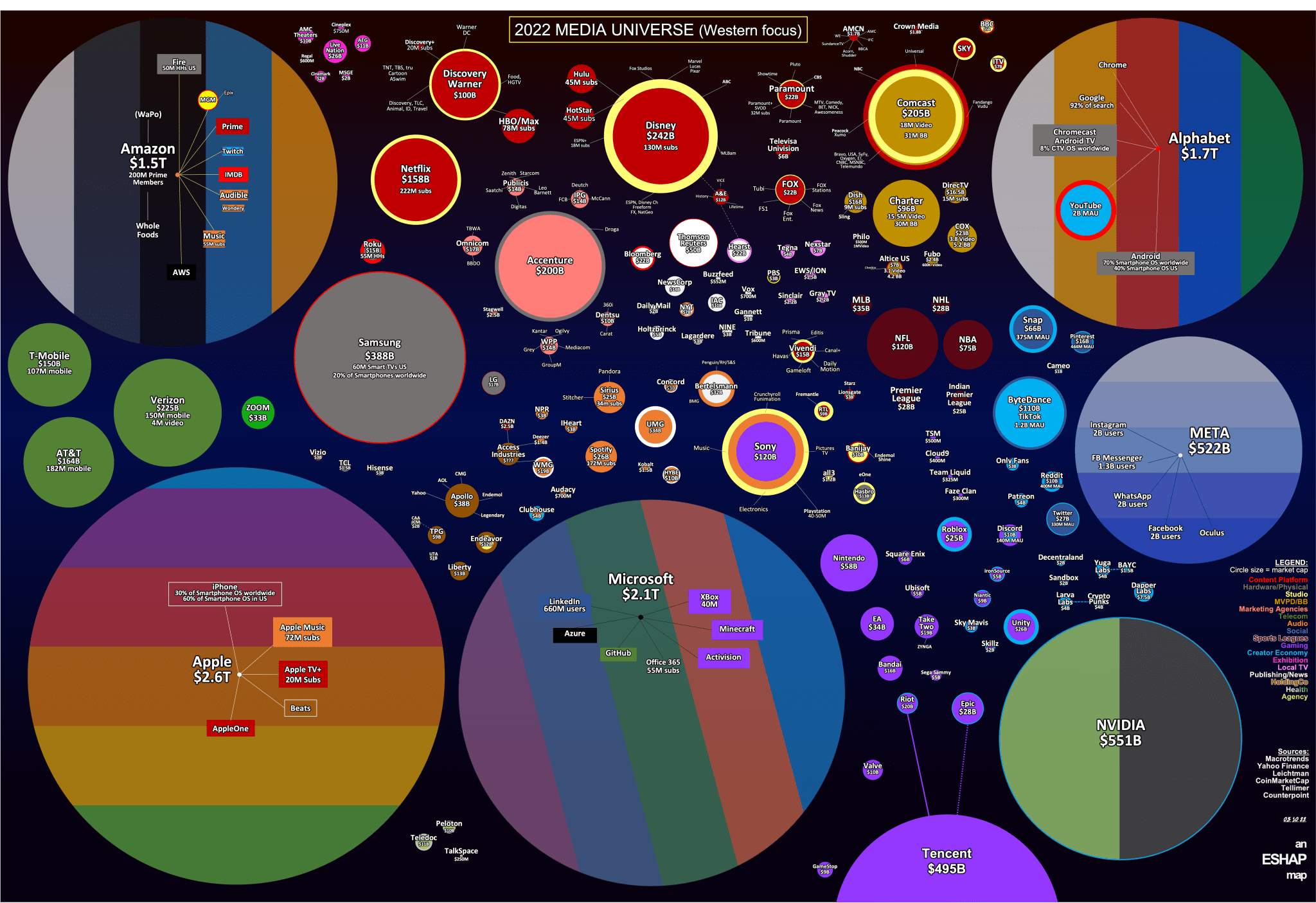 There is no denying that this universe is massive. Whatever you are creating, whatever you are pitching, and whoever you are building relationships with is working, collaborating, and making deals inside this space. Regardless of where you are in your creative journey, your ability to navigate change, build relationships, sell ideas, and adapt to opportunities is the key to your ongoing and long-term success. How you approach these responsibilities will ultimately define how big or small your presence is in the universe.
Are you a Creative Entrepreneur?
A creative entrepreneur is an individual who builds a new business in a creative field or industry.
If you are starting or operating a business based on your ideas, skills, and talent - then you are a creative entrepreneur. Creative entrepreneurs like you come in all shapes, sizes, and skills and work across many fields and industries.


Creative Industries

Creative industries touch us all, and sometimes they are referred to as creative economies or cultural economies. Big or small, creative industries revolve around creativity and ideas as a means of commerce. These industries have a potential for wealth and job creation through the creation and exploitation of intellectual property (IP).
Here are a few traditional examples:
Film, TV, video, radio, and photography
Music, performing, and visual arts
Publishing, gaming, streaming
Design: product, graphic, and fashion
IT, software, and computer services
Advertising and marketing
There is a wide breadth of what is considered a part of the creative industry. Even education is now a category because of the success of coaching, classes, and communities that thrive on youtube, TikTok, and the broader internet, which provides greater accessibility.

Types of Creative Entrepreneurs

Creative industries are merging and working together in new ways. The opportunities for everyone are incredible - the possibilities are endless and exciting. Here are some types of creative entrepreneurs you might be classified as. As a creative entrepreneur, remember that you may do more than one of these as you build your career, brand, and business.


| | |
| --- | --- |
| Film & Television | Film & Television Actor, Writer, Producer, Director, Composer, Visual Artist, VFX, Editor, Costume Designer, Set Designer |
| Content Creators | Podcasters, Videographer, Musicians, Visual Artists, Gaming, Coaches, Influencer, Blogger, Photographer |
| Audio & Music | Artists, Singers, Musicians, Producers, Podcasters, Critic, Comedian |
| Gaming & eSports | Streamer, Gamer, Management, Commentator, Game Designer, Video Game Developer |
| Sports Entertainment | Athlete, Agent, Creative Producer, Event Coordinator, Presenter |
| Startups & Retail | Designer, Marketer, Software Developer, Merchandiser |
| Technology | Software Engineer, UX/UI Designer |
| Creative Professionals | Wide range of professionals supplying skills and services |

Notable Creative Entrepreneurs

Successful creative entrepreneurs can easily articulate how they manage and operate their businesses. They have all spent years learning to become better businesspeople as they grow their careers, brands, relationships, deals, and businesses.

Here are some examples of creative entrepreneurs you might identify with:


| | | | |
| --- | --- | --- | --- |
| Creative Entrepreneur | Starting Point | Businesses | Impact |
| | | | |
| --- | --- | --- | --- |
| Reese Witherspoon | Actor | Type A Films, Pacific Standard, Hello Sunshine, Draper James | Actress, producer, designer, advocate, businesswoman |
| Kevin Hart | Comedian | Laugh Out Loud Productions, Hartbeat | Comedian, actor, producer, TV host |
| MrBeast | YouTuber | MrBeast, Feastables, Backbone | YouTuber, businessman, philanthropist |
| Madonna | Singer | Maverick, MDNA, X, MG Icon, Hardcandy Fitness | Singer, songwriter, actress, dancer, record producer, director, author, businesswoman |
| J.J. Abrams | Writer | Bad Robot | Leading film director, producer, screenwriter, and composer |
| Serena Williams | Tennis Player | Serena Ventures | Athlete, activist, businesswoman |

What makes them successful is hard work, relationship building, and a focus on building their business and teams to scale their opportunities and future endeavors.
Common Challenges Creatives Face
On your creative journey, time is one of your most valuable assets. IP development, relationships, and collaboration depend on time. By using the "just start" approach, you are wasting not only time but also your energy. Successful creatives do not waste their time and energy. They channel it into creating systems that establish their baseline so down the line, they can nurture an original idea instead of asking where they went wrong. Time management is one of the largest pitfalls for creatives. Along with time, these are many of the challenges creatives often encounter:


Business Problems

Brand consistency and relevance
Generating meetings
Winning jobs
Selling your ideas
Finding clients
Developing meaningful relationships
Partner collaboration
Revenue and platform diversification
Creative Obstacles

IP protection

Access to tools and resources

Creative workflows

Work not taken seriously

Staying inspired

Receiving feedback


Additional Issues
Lack of revenue and money
Searching for your materials
Feeling overwhelmed
Forgetting deadlines
Failing to deliver on promises
Missing opportunities
Trying to find work
Stability
Burning out



The format for starting a creative career couldn't be more straightforward. The age-old encouragement is to simply "just start!" - bad advice if you want to achieve your grand goals. Wide-eyed creative professionals are eager to hit the ground running and jump in without any strategy, which is a grave mistake. Starting is one of the biggest hurdles, but starting smart is how you get ahead.
Why Creative Business Foundations are the Key to Success
As with any endeavor in life, foundations are vital to foster longevity and growth. A foundation is where you create a reliable state to return to and launch forward from constantly. They are systems in place to avoid easy mistakes and pitfalls that can ultimately hold up progress. In times of uncertainty, they are a stable point to return to for clarity. Used correctly, these systems can accelerate opportunities when they present themselves.
What is a Creative Business Foundation?

It's a system - your system - that helps you maintain control over the lifecycle of your career, brand, and business to include how you grow your career, opportunities, relationships, and collaborations. To be successful long-term, you need a solid foundation for your creative career and business. Building your foundation is crucial to your brand, creative career, and business success.


Why is a Foundation Necessary to Succeed?

With a strong business foundation, you leave out the guesswork of approaching decisions. You arm yourself with resources and confidence to tackle the difficulties that arise along your journey.


Time


As previously alluded to, time is the main component. Time is money. In creative careers, it is no secret that they are volatile and unpredictable. That is the choice you make as a creative; time and how you allocate it is the key to success. With more time, you have the agency to focus on your creative ideas, relationship development, and sales which are essential to long-term success.


Decision-making


In addition, a foundation can help you safely navigate the ups and downs. Evan Shapiro asserts that "What you have to do to survive in this new media universe is to become CEO of your own stuff. That means looking at your art as a business and looking at the channels of distribution that make the most sense." Recognizing that your art is a business is crucial. Personifying a CEO mentality when selling your work requires a sound business foundation.


The Future


A creative business foundation bridges your creative activities with the network of relationships and business resources you need to thrive. It helps save time and energy while producing a consistent view of where you have been and where you are going with your career, brand, and business. A good foundation will empower you to share your creative ideas and help you present the value of your ideas and talent service to clients, investors, creative collaborators, agents, lawyers, and business partners. Foundations lay the groundwork for all of your future success.
As a creative professional who develops stories and content, collaborates on projects, and is constantly pitching your ideas and services, it can be easy to get caught up in the day-to-day and lose sight of the bigger picture of building your career and brand.
Building a foundation, finding creative success, and growing a brand is a series of adventures on a continuous journey.


Many people think that is how it works, but that is simply not the case. To build a lasting and thriving creative brand and business, you must take the time to establish groundwork because it will pay off in the long run. Dedicating proper preparation to gather information and develop ideas, formation to let ideas take shape and grow, and execution to put your ideas into action and make them a reality will allow you to achieve your goals.


Start with a Vision and Purpose

Going into a creative career is rooted in passion. Whether it is because of a love to create or a desire to express yourself, harness that passion and translate it into your purpose. The purpose is where you will draw motivation from, and a vision will communicate what you hope to achieve to your team, consumers, and collaborators. Performing this exercise will ground your work and give you direction.


Create a Plan

No matter your vision for your creative career, business, and brand, from there, you need to start with a plan. You can only be successful by knowing where you are going if you have a roadmap.

Here are some questions to ask yourself:


What are your long-term goals?
How do you envision yourself getting there?
What are your capabilities?
What do you need from life to be successful?
What are your strengths and weaknesses?
You must know what you want from life which will be determined by your vision and purpose and build your business around that.
Understand the Market for Your Ideas and Talent Services

Armed with your plan, take the time to research and understand the inner workings of the industry. By building a knowledge base, you can dissect the market and how it functions. Breaking elements down into their components may reveal niche areas where your ideas will be better suited or how to market your services tactically. Choosing the right channels and audiences should be built on careful forethought.


There is no one-size-fits-all approach to starting, developing, or maintaining a creative business. Each creative professional and team is different, as is each company. What works for one might not work for another. Be flexible and adaptable in your approach, and always be open to new ideas. With a proper plan in place, allow it to be malleable and evolve throughout the ever-changing market.


You are the CEO of Your Career, Brand, and IP

Always remember that you are the CEO as you weigh choices. A CEO guides everyone, in this case, yourself, to success. They evaluate a company roadmap and either direct or redirect it based on the goals and visions. CEO's have both the entrepreneurial spirit and the grit of a worker - these are important qualities to inform you.


Your brand, skills, and ideas are essentially your products and services. Take charge of your work and business with a CEO mentality. As a solo entrepreneur or head of a team, leading your career is up to you.


Growth Mindset

Your plan will undoubtedly change as your business grows. As you scale, be prepared for uncertainty, as it is a part of the process. Keeping a strong foundation in place will allow for an overall upward trajectory. A base will give you a reference point and something to return to as you navigate the ever-changing landscape of the creative industry. The beauty of a strong foundation is that it has a standard in place.
Managing Your Creative Business
A strong foundation for a creative career and business allows you to manage your career, relationships, projects, and partnerships from a consistent view of progress and goals. A foundation like this provides for successful creative development, partner collaboration, and team-based pitching and sales.
Here are the key activities that you need to constantly AND consistently work on to help your creative career and business thrive:


Keep your brand organized: Align your digital real estate into one concise overview representing your ideas and goals to prospective partners and collaborators.
Centralize your projects: Combine all your ideas and projects into one place for easy access and accurate updates.
Manage your materials: Collect every project asset to document the process, maintain important information, and unify the working team.
Share and protect your IP: Circulate ideas, projects, and IP confidently to move them toward production.
Build a balanced business team: Assemble collaborators like coaches, partners, and representatives who you trust and who understand your goals.
Collaborate continuously: Build relationships to sustain lasting partnerships and generate new opportunities constantly.
Always be learning: Seek out advisors, education, and mentors to be expanding your knowledge base and interests.
Where do you go from here?
Recommendations for Individuals and Small Teams

Start by assessing your current foundation: What do you currently excel at? Where do you have room for improvement? What do you want to achieve? Analyze the common struggles you encounter and attribute those problems to one of the four areas of a foundation. We like to call this a self-audit. Performing a self-audit, it allows you to gain insight into your creative career blindspots. From there, start making your goals and plan.
We recommend that you design your foundation with this in mind…embrace business technology. It is the latest facet of the growing industry and can make or break your career now. Tech is a valuable tool to allow you to get ahead - it is not something to be avoided.


Recommendations for Larger Teams and Companies

When building out your foundation for larger teams and companies, we recommend establishing best practices.
As a business grows, sprawl often occurs simultaneously. Taking a step back and analyzing how your team conducts work and communicates with each other will be an invaluable checkpoint down the line. Standardizing interactions internally and externally will set a precedent for future staff to work from.


Recommendations for Enterprises


For well-established businesses and enterprises, we recommend: utilizing one platform to conduct business affairs.
Powerful tools create powerful opportunities. Constantly switching from program to program will cause you to lose valuable time. Housing everything, like ideas, scripts, and materials, in one single place will take out the chaos of searching. The added benefit of centralizing projects is the ability to protect your IP while also being able to share it with partners safely.


Do More For Your Creative Business

Regardless of team size and where you are on your journey, for more insights and the next steps for building your foundation, follow Symbonic to learn the importance of each element, the value of putting these systems in place, and how we can help make the building process easier. Keep your brand information, materials, and sales stuff all in one view if you can.
Sign up to our mailing list
Get Notified About Our Latest Articles


We Never Share Your Information
Build a Better Creative Business Foundation
Symbonic is specifically designed for the business of ideas, creativity, and innovation. With Symbonic, you can grow and scale your creative business foundation regardless of your size or ambitions.
Created with